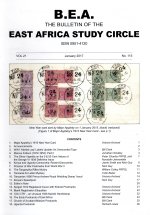 The East Africa Study Circle (EASC) was founded in 1978 to study, record and publish information relating to the philately and postal history of Kenya, Uganda and Tanganyika including all of the forerunners, British East Africa (Company and Imperial Administrations), East Africa and Uganda Protectorates, Deutsch Ostafrika (DOA), Belgian Occupation of DOA, Kenya and Uganda, Kenya Uganda and Tanganyika/Tanzania (KUT) and Kenya, Uganda and Tanganyika/Tanzania after independence in the early 1960's to the present day.






The EASC has 160 members worldwide who receive the award-winning Bulletin, can attend Meetings, buy and sell at the twice-yearly Members' Auctions and borrow books from the Library as well as having access to leading specialists in East African philately, and meets three times a year on Saturday afternoons in February and September (to coincide with Stampex) and in mid June at the Union Jack Club, Sandell Street, Waterloo, London SE1 8UJ.
To join the EASC please see our Join Us page or for more detailed information contact the Hon. Sec: Michael Vesey-FitzGerald, Gambles Cottage, 18 Clarence Road, Lyndhurst, SO43 7AL (UK). Tel 023 8028 2474 (+44 238028 2474).
Email:
If you have any problems using these pages please email:
Copyright © The East Africa Study Circle and individual authors 2005 - 2021
This site was last updated on 3rd October 2021